2023. March 07.
Professor of Neurology and Neurogenetics; Head of Neuromics Research Group; Director of K.G Jebsen Center for Translational Research in Parkinson's disease (University of Bergen, Norway); Director for Neurodegeneration, Neuro-SysMed Center of Excellence
The signature part of your email is pretty impressive, but it also needs some time to digest. It reads:
Charalampos Tzoulis, MD, PhD
Professor of Neurology and Neurogenetics
Head of Neuromics Research Group
Director of K.G Jebsen Center for Translational Research in Parkinson's
disease (University of Bergen, Norway)
Director for Neurodegeneration, Neuro-SysMed Center of Excellence
First of all, can you tell me about your involvement and role in these research groups? What is the focus or mission of each group?
I am the head of the Neuromics group, which is my core research group. It is highly interdisciplinary and comprises approximately 50 members, including molecular and cell biologists, bioinformaticians and data scientists, clinicians, nurses, and clinical trial coordinators, to name a few. Our goal is to elucidate mechanisms driving the initiation and progression of Parkinson's disease, develop biomarkers for early and more precise diagnosis, stratify patients according to molecular pathophysiology as well as find and test novel neuroprotective therapies to prevent, slow down or arrest the progression of PD.
I am Director of the K.G Jebsen Center for Translational Research on Parkinson's disease. This is a research center which conducts basic and clinical research, with the aim to discover biomarkers for improved diagnosis and follow up, and novel treatment targets and treatments for individuals with Parkinson's disease.
I am also Co-Director of the Neuro-SysMed Center, a national center of excellence for clinical treatment research on Parkinson's disease, dementia, ALS and multiple sclerosis. The Neuro-SysMed center conducts clinical research, including trials of novel experimental therapies, with the aim to improve the diagnosis, treatment and care of patients with these four disease groups. I have the overarching administrative responsibility for neurodegeneration (i.e., Parkinson's disease, dementia, ALS), and lead myself the program on Parkinson's disease.
One of your biographies available on the internet says 'established his own research group' (…) – how could you possibly establish your own research group, especially in your '30s?? Were there no research groups that you could join or you did not want to join any of them? How did you get support and funding for a research group that you established? How did you get people to support your ideas and initiatives?
I established my own group in 2013 (I was 33 at the time). I had finished a PhD and a postdoctoral fellowship, which I did in parallel with finishing my specialization in neurology, and wanted to take the next step and become an independent researcher. I had my own ideas and the urge and drive to be free from my ex-mentor and to follow my own path. So, I started applying for independent funding and managed to secure my own small grant from the Health Authority of Western Norway. This allowed me to fund my experiments and to hire a researcher into my newly found group of two. I was lucky to hire an excellent researcher, Chris, and together we gradually built our research. As we published good papers, we managed to attract more funds, hired more people, and the group grew. Later we managed to secure large-scale funding from the Research Council of Norway, and started establishing our current Centers. Chris is still with me by the way and is now Head of Molecular Science in my group, and central in the clinical trials we are running on Parkinson's and other neurodegenerative diseases.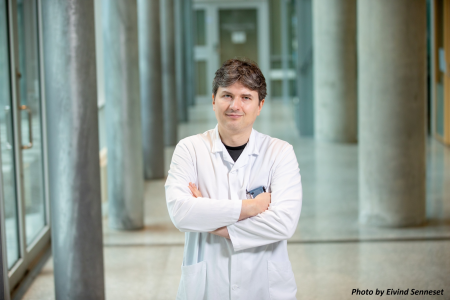 Did you always want to do research or it just crystallised later on? Do you also work as a clinician?
I have always been interested in science and research. For me, medicine was only a path, the means to a achieve a goal – the goal being to explore the mechanisms causing neurodegenerative diseases and to attempt to discover treatments – to contribute to pushing the limits of the human species beyond the barriers of diseases like Parkinson's and Alzheimer's. I believe that as a clinician-researcher, one gains a unique and holistic perspective of disease, enabling one to conduct more spherical and more directly translational research.
I still work as a clinician, although not so often anymore. I no longer do on-call service or general neurology, I do specialized outpatient clinic for movement disorders and neurodegeneration, approximately once every second week. But I have a large team of neurologists and specialist nurses and together we see many hundreds of patients per year.
Do you do any teaching at the university? If you do, what courses and who do you teach?
I teach neurology, neuroscience, and genetics. At the Neuro-SysMed Center, we also run a series of scientific seminars attended by the Center personnel and associated collaborators. The topics vary from basic cell-models to clinical trial design. They are very educational and give credits for MSc and PhD.
What do you actually do in the lab? Do you ever work with the actual cells, tissues, samples, etc?
I used to work very actively in the lab – with both tissues, cells, laboratory animals, etc. As my group grew, my time in the lab shrunk, and I am rarely holding a pipette anymore. I spend most of my time leading my team and conceptualizing and designing new projects, as well as applying for grants, and trying to convince our politicians to give more funding to research.
I've read that you are also working together with the Michael J. Fox Foundation. How did you get in contact?
We received a grant that will fund a project aiming to identify a novel subtype of Parkinson's disease. Finding biomarkers of a disease subtype will enable us to identify patients who are most likely to benefit from specific experimental treatments. We hope that this project will make an important contribution to the global efforts for establishing personalized medicine in Parkinson's disease.
Will there be some actual cooperation or they are 'just' funding your research?
We are very excited to be working with them. From the very start, they are very active in supporting the project and there are good prospects for further collaboration with them. I meet them regularly.
When and how did Neurology become your main field of interest?
I wanted to work with the last frontier of medicine, a field that is still largely undiscovered and where we still do not have effective treatments. So, it had to be neurology. Besides, I am fascinated by the fact that we are working with the organ which essentially IS us. All our memories, knowledge and personality reside there – the rest of the body is basically a vehicle for the brain to get around. :)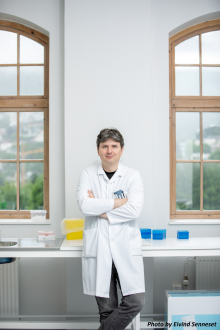 You were born and brought up in Greece. After spending 6 years in Hungary, why did you choose to go to yet another country (Norway) and study another small and rare language?
At the time, I wanted to continue my journey onward, to see more of the world and collect new experiences – both regarding my career and my personal fulfillment. I could always go back to Greece later if I wanted to. When I look back now, I think that moving to Hungary and then further out was one of the best decisions I ever made. Not that I don't like Greece – I love Greece, as I love all countries. This has nothing to do with Greece in particular. It has to do with the exceptional gifts of becoming multicultural and a global citizen. I have come to realize that leaving one's familiar environment – be it a city, a country, or a continent – and getting exposed to other cultures, peoples, and environments is absolutely catalytic for opening one's mind. It gives you the chance to leave all stereotypes and prejudice behind and become a true citizen of the world. This is a lesson you cannot learn at the school bench!
What does an average day of yours look like?
It varies a lot – but the main recurring elements are: meetings with my senior scientists to strategize on our work, with postdocs and PhD students to give feedback on their work, or with the hospital or university board for administrative purposes, writing papers or grant proposals, traveling to meet partners and collaborators or give talks, sometimes in the lab to check on results, some teaching, and about twice a month I see patients.
Bonus question: What do you do in your free time (if you have any)?
That's an easy one :D – I have the rare privilege to have made a career out of my favorite hobby. So, there is no need for free time. :)