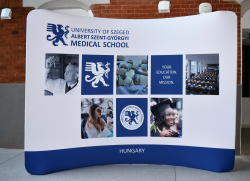 Dear 1st year Medical Students, Welcome to the Albert Szent-Györgyi Medical School!

We are looking forward to your arrival and would like to invite you to attend the programmes of our orientation week. We would like to help you to explore the many opportunities awaiting you and to succeed in your first year and beyond. Don't miss a thing!

Please check back regulary for updates!
Event Calendar
More Events

Students starting University studies may find academic life new and exciting, but also a bit bewildering.